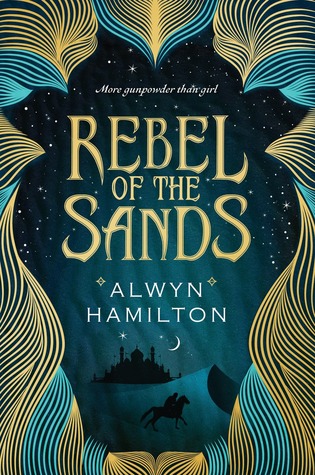 Title:
Rebel of the Sands
Author: Alwyn Hamilton
Released: March 8, 2016
Synopsis:
She's more gunpowder than girl—and the fate of the desert lies in her hands.
Mortals rule the desert nation of Miraji, but mystical beasts still roam the wild and barren wastes, and rumor has it that somewhere, djinni still practice their magic. But there's nothing mystical or magical about Dustwalk, the dead-end town that Amani can't wait to escape from.

Destined to wind up "wed or dead," Amani's counting on her sharpshooting skills to get her out of Dustwalk. When she meets Jin, a mysterious and devastatingly handsome foreigner, in a shooting contest, she figures he's the perfect escape route. But in all her years spent dreaming of leaving home, she never imagined she'd gallop away on a mythical horse, fleeing the murderous Sultan's army, with a fugitive who's wanted for treason. And she'd never have predicted she'd fall in love with him... or that he'd help her unlock the powerful truth of who she really is.

Rebel of the Sands was so so interesting! I fell in love instantly with this book, from its gorgeous writing to the equally stunning cover. This book was beautiful and definitely worth the read.
This book was action packed. Amani knows how to get herself in trouble over and over again! She never let anything get her down. She was built of the desert and didn't let a little disappointment stop her. The setting also contributed to the action. The desert never really sleeps, especially at night since the Nightmare's come out then.
I kind of introduced Amani above, but she was a serious badass. She was so awesome. She taught herself how to shoot a gun as soon as she could walk and didn't let anyone get in her way. She was very stubborn and hard-headed but it was still so great. I never wanted to smack sense into her like I have other characters. She also wasn't obsessed with romance like some other characters her age. She wanted nothing to do with men and was even willing to disguise herself as a man to escape from getting married.
Jin. I love freaking Jin. He was so great. He matched Amani's smart mouth perfectly and he kept her safe when he didn't have too. Later in the book, you see his true intentions and then you want to smack him, but I still couldn't bring myself to hate him. I love that mysterious character that doesn't share much about himself and is very guarded. They're more fun to read about and peel apart their layers.
This book was worth every second I spent reading it, and that was pretty much every spare moment that I had. It wasn't much spare time, but I was still able to finish the book in a little under 3 days. Which is actually a long time for me, but my summer internship keeps me busy. Anyways, read this! It is so good and a fun, quick read!