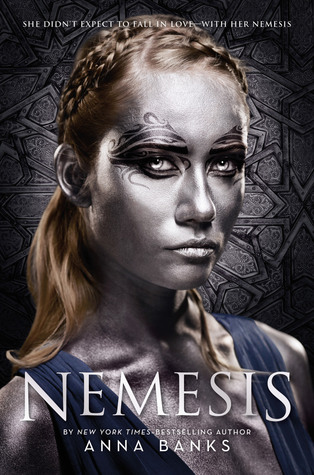 Title:
Nemesis
Author: Anna Banks
Released: October 4, 2016
Synopsis:
The princess didn't expect to fall in love--with her nemesis.
Princess Sepora of Serubel is the last Forger in all the five kingdoms. The spectorium she creates provides energy for all, but now her father has found a way to weaponize it, and his intentions to incite war force her to flee from his grasp. She escapes across enemy lines into the kingdom of Theoria, but her plans to hide are thwarted when she is captured and placed in the young king's servitude.
Tarik has just taken over rulership of Theoria, and must now face a new plague sweeping through his kingdom and killing his citizens. The last thing he needs is a troublesome servant vying for his attention. But mistress Sepora will not be ignored. When the two finally meet face-to-face, they form an unlikely bond that complicates life in ways neither of them could have imagined.
Sepora's gift could save Tarik's kingdom from the Quiet Plague. But should she trust her growing feelings for her nemesis, or should she hide her gifts at all costs?
My Review:
I am upset. Oh my gosh, so upset. But only because I WANT MORE. It ended so suddenly (at least to me) because I just wanted more and more of the story, but alas, I need to wait until the sequel comes out, which will be a while because this book is not out for a few months.
Nemesis took me less than four hours to read because I was so into it. I really enjoyed the story, I have been wanting a good royalty story, and though Sepora is not in the role of a princess, she was still one at heart and Tarik was a king so I just got all the royalty.
The world building was oh so good. I love Egyptian mythology and Theoria looked to me like it was based off of Egypt. It probably was, I just don't want to make assumptions.
Okay, so Sepora. I can't really decide if I like her or not. She seemed so naïve and innocent. She really didn't understand the world and needed to have a better grasp on it, especially if she was going to be a queen. She was also very entitled and stubborn. She wanted to get her way and would do anything she could to get it. I wanted to smack and shake her half the time. She was also a teenage girl. She needed to get a grip on her emotions and be less of an annoyance.
I really enjoyed Tarik, though he was just as naïve sometimes. He was suddenly thrust into his role as king and he was trying to make the best of it. I think if he was given more respect by his advisor, he would be able to do an amazing job. BUT THAT ADVISOR WAS SO ANNOYING. I honestly hated him and I wished Tarik would just get rid of him. I wish that I could've seen more of the real Tarik, he was so guarded that it was hard to see the boy that he really was.
Nemesis
is the book y'all have been waiting for. Anna Banks did such a freaking good job writing this book! It is the perfect mix of fantasy, romance, and teenagers finding their ways.