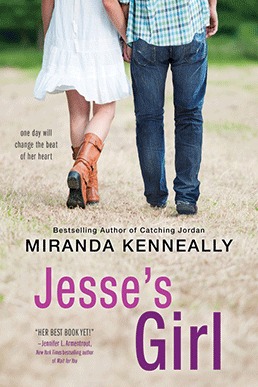 Title:
Jesse's Girl
Author: Miranda Kenneally
Released: July 7, 2015
Synopsis:
Everyone at Hundred Oaks High knows that career mentoring day is a joke. So when Maya Henry said she wanted to be a rock star, she never imagined she'd get to shadow *the* Jesse Scott, Nashville's teen idol.
But spending the day with Jesse is far from a dream come true. He's as gorgeous as his music, but seeing all that he's accomplished is just a reminder of everything Maya's lost: her trust, her boyfriend, their band, and any chance to play the music she craves. Not to mention that Jesse's pushy and opinionated. He made it on his own, and he thinks Maya's playing back up to other people's dreams. Does she have what it takes to follow her heart—and go solo?
Review:
I love Miranda Kenneally. Her writing is truly captivating and Jesse's Girl is no different. Kenneally draws you in from the beginning and doesn't release you until the last line of the book. I have read and loved every one of Kenneally's books and this one was no different.
Maya Henry didn't pull her punches and I loved her for it. She wasn't afraid to be herself to anyone. All she wants to do is be a rocker. She wants to play her guitar in front of people and live her life making music because she loves it so much. She is into 80's music and loves dressing like she lives in the 80's as well. She was seriously awesome.
For her school's career mentoring day she told her teachers that she wanted to be a rock star. So what does her school do? They pair her up with famous country singer Jesse Scott. This pairing is hilarious. They hate each other from the start. All Maya wants is to learn how to be a better musician and Jesse could care less.
Maya isn't scared to tell the truth. She is headstrong and confident. It was amazing reading about her because she wasn't scared to do anything. She also didn't want anything from Jesse. She just wanted to learn and experience the life of a rocker. She is so strong. When life hits her hard, she picks herself back up again and keeps on kicking. She learns a lot from Jesse in the short day they are together and she makes herself better. Watching Maya grow into a better, more confident, strong woman was amazing. Kenneally really showed that you can continue when life keeps kicking you and won't let you up. I watched Maya move on from backstabbing and heartbreak and it really showed something positive for teenage readers.
Jesse… Where do I start on this boy? He for one is a sexy country rock star. He is sassy and hard around the edges. He doesn't trust easily at all and is scared to let people in. He lives his life mainly alone and it was heartbreaking reading about the boy who never let anyone in. He is jaded from being a young country star especially when people only want to use you for their own personal gain. As the book progressed, I watched Jesse break down those walls and try and move on from the pain and loneliness he was holding in.
Of course, I loved the cameos from Kenneally's other books, Jordan and Henry for starters. I LOVE THEM SO MUCH. THEY ARE SUCH SPECIAL CREATURES AND I WANT THEM IN MY LIFE. Yes, the caps lock was necessary. It was so nice to look into the life of the characters that started it all, the series and my love for Kenneally's writing.
Jesse's Girl
is about growing up, facing your fears, and learning to move on. Kenneally taught such good lessons through her writing. Always remember, "You have to take chances to take a chance at your dreams." That line stuck with me and I believe that it will stick with other readers. Pick up Jesse's Girl today for an amazing story about love and taking chances.