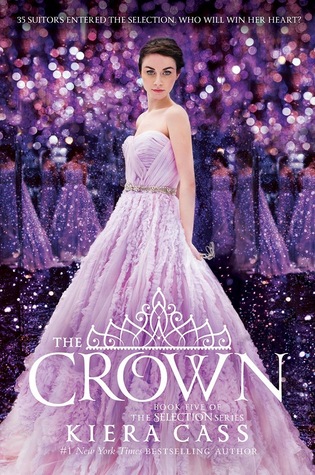 Title:
The Crown
Author: Kiera Cass
Released: May 3, 2015
Synopsis:
When Eadlyn became the first princess of Illéa to hold her own Selection, she didn't think she would fall in love with any of her thirty-five suitors. She spent the first few weeks of the competition counting down the days until she could send them all home. But as events at the palace force Eadlyn even further into the spotlight, she realizes that she might not be content remaining alone.
Eadlyn still isn't sure she'll find the fairytale ending her parents did twenty years ago. But sometimes the heart has a way of surprising you…and soon Eadlyn must make a choice that feels more impossible—and more important—than she ever imagined.
My Review:
The Crown was so good! This book made me laugh, smile, cry, scream, and so many other emotions that I cannot name or remember. The Crown was ten times better than The Heir and it was definitely worth the read.
It is time for Eadlyn to pick her partner in life, a life that has been thrown into chaos.
If you have not read The Heir, do not continue.
Her twin left her, her mother had a heart attack, and she has to pick a partner that will rule by her side. She doesn't know how to deal with all of this. Plus, she was named regent in her dad's stead since he was too distraught over America's heart attack.
Eadlyn grew up so much in this book. She was no longer the bratty child that thought she knew everything. She was now an adult who understood the world better and what her people needed. Her dad had sheltered her so much and now that shelter is gone and she has to step up to the challenges, and boy does she step up.
If I know one thing for sure, Eadlyn has a good head on her shoulders. She followed her gut and did what was best for her country. Her motivations were no longer selfish, all she wanted was the best for her family and her country. She takes a role that she is not sure she is ready for, but does so anyway. Eady knew what needed to be done and she was also the one who got it done. She learned to stand and fight for herself and her country and she turned out so much better because of it.
I am proud of the character that Eadlyn became by the end of the book. She was able to find love in a competition that she thought was stupid and pointless. She was able to find herself and grow into a beautiful person. She also grew into the ruler her country needed. She made decisions that would benefit her people and not just further her control. She really ended up impressing me.
That being said, America and Maxon needed to stop keeping so many things from her. I guess Maxon didn't want to burden his daughter with their past, but it would've helped her so much! They meant everything to Eadlyn and she was upset with all the secrets they kept. Thankfully, they learned from their mistakes and told her more, but still. Don't keep secrets from your family guys, it's not nice.
This was the perfect conclusion to
The Selection
series. Hopefully, Cass doesn't do another spin off, I don't think I could take that. In the end, I got the happily ever after that I wanted and I finished a really good book!