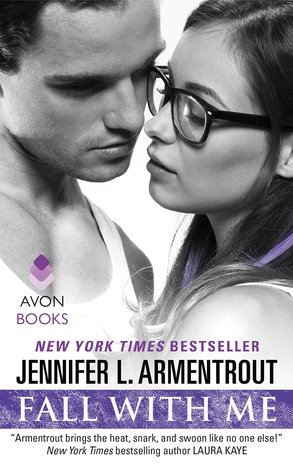 Title: Fall with Me (Wait for You #4)
Author: Jennifer Armentrout or J. Lynn
Published: March 31, 2015
Synopsis:
Eleven months ago, bartender and weird-shirt-wearing extraordinaire Roxy and Officer Reece Anders had a one night stand. Well, kind of. She's been in love with him since she was fifteen, and he wishes that night they shared never happened. She's sworn him off forever, but the past and future collide, forcing her to rely on the one man who broke her heart not once, but twice.
Her best friend since birth has been in a long-term care facility since he became a victim of a hate crime years ago, and the person who put him in there is out of prison and wanting to make amends with him and Roxy. She's not sure she has room for forgiveness in her and when she begins to receive frightening messages and is on the receiving end of escalating violence, she thinks she knows who is to blame. The man who already destroyed one life already.
But Reece isn't convinced. The threats are too personal, and even if Roxy doesn't believe him, he's not willing to let anyone hurt her. Including himself. He's already messed up more than once when it comes to Roxy and he's not going to let history repeat itself.
Review:
God…. I love Jennifer Armentrout's writing. I don't think anyone understands the love I have for her books, and her latest one out, Fall With Me, was no exception. My love for her books knows no bounds. So when Fall With Me came out, I had to read it. The overall reading took me less than 24 hours and I loved every second of that time. Yes, I understand my excessive use of the word love…
Armentrout is keeping with her fourth spin off in the Wait For You series. Fall With Me stars two characters mentioned in the previous book, Reece and Roxy. Boy, I loved those two. It also features cameos from other characters in the previous books that honestly, just made me jump up and down with excitement! I never want to see a book end, so adding a few of the main characters just makes me a very happy camper.
Roxy is a spit-fire of a girl who has been dealt a bad hand in life. Yet, you can't help but love her personality and interesting choices in shirts (read the book, you'll understand). Her best friend is incapable of speech and functioning on his own, and Roxy feels as if she is to blame for that. Not to mention the guy who was in jail for hurting her friend, was just released. Piled on top of all that of crap, she has a stalker. It's a wonder this girl was even functioning. She kept going strong and powered on through all the bad in her life. She was a character who was resilient and adorable. I couldn't help but find a little piece of me in her, which might have to do with the fact that she has purple hair and glasses.
Then there is Reece, the sexy cop and ex-military. He has seen his fair share of violence and jumps right back into the force when he comes home to his small little town to protect the people he grew up with. Reece was an open book throughout the entire story, no matter how much Roxy did her thing and got scared (NA commonality), Reece was always there to make her stay and protect her. He also had that caveman vibe going on that readers can't decide if they want to smack him or get all giddy over that protective side. He's a cop, it's in his nature to be protective. Reece was one of the best male characters Armentrout has written in my opinion. He never failed to protect and just be there for Roxy when she needed him. He was a very good guy. I want a Reece.
Armentrout keeps you entertained from cover to cover. I was laughing at the hilarious banter that Armentrout is known for, scared for the characters, and maybe even a little teary-eyed at certain points. It was a little predictable, I will admit that. Most romance books nowadays are. It was the type of predictable that makes you want to keep reading just to make sure that your predictions are correct and the happy ending comes about.
If you have yet to read anything by Jennifer Armentrout or J.Lynn (which is her pen name) I would definitely recommend the Wait for You series. The books can be read alone, but there are characters and stories mentioned in Fall With Me that could spoil other aspects of the books before. This series is worth the read!