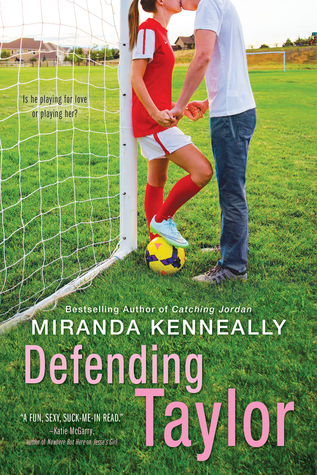 Title: Defending Taylor
There are no mistakes in love.
Captain of the soccer team, president of the Debate Club, contender for valedictorian: Taylor's always pushed herself to be perfect. After all, that's what is expected of a senator's daughter. But one impulsive decision-one lie to cover for her boyfriend-and Taylor's kicked out of private school. Everything she's worked so hard for is gone, and now she's starting over at Hundred Oaks High.
Soccer has always been Taylor's escape from the pressures of school and family, but it's hard to fit in and play on a team that used to be her rival. The only person who seems to understand all that she's going through is her older brother's best friend, Ezra. Taylor's had a crush on him for as long as she can remember. But it's hard to trust after having been betrayed. Will Taylor repeat her past mistakes or can she score a fresh start?
The Queen of Contemporary (at least in my world) has done it again. She hit another one out of the park with Defending Taylor. Yes, I realize this was a book about soccer, but I mainly know baseball, not soccer. I read Defending Taylor in about 3 hours because I couldn't put this freaking book down. It was that good. I haven't really been in a contemporary mood for the past couple of months, but that didn't stop me from enjoying Defending Taylor.
It took me no time to get immersed into Defending Taylor. Probably about like 10 pages. I just wanted to keep reading and reading it that badly.
The thing that I love the most about Miranda's books are that even though they are in the same world, none of them are the same. Each character that she creates are different and have incredibly different problems from each other. But all of her characters have a humorous touch to them that I love. Some of the scenes in this book, and all her books, have me dying of laughter.
Taylor was a little bit annoying. I loved her dedication to working hard, getting good grades, and not using her dads name to get her everywhere in life, but she was a little stubborn and clueless with what she wanted in life. She was so dependent on what her parents wanted and expected her to do that she didn't even know what she wanted. She also was shunned for making one mistake, but instead of telling her parents the truth, she kept it a secret and of course it blew up on her. (That's not really a spoiler if you know anything about keeping secrets in a YA book or any book for that matter). I liked her more as the book progressed, but she still annoyed me at the beginning
Ezra was awesome. Of course he had his secrets, but he wasn't afraid to share them, like someone. *cough* Taylor *cough*. He also was just a good guy. He did the right thing and he stood up for what he believed in. Though, he was a little scared of one thing that I wanted him to man up and deal with, but when you have the parents he did, that's kind of hard.
Defending Taylor
is the perfect summer read. Unless you're not excited about going back to school, then don't read this yet because it is focused on the school year. But, that's okay as long as you read it! It is worth every second you put into reading it. It is great.