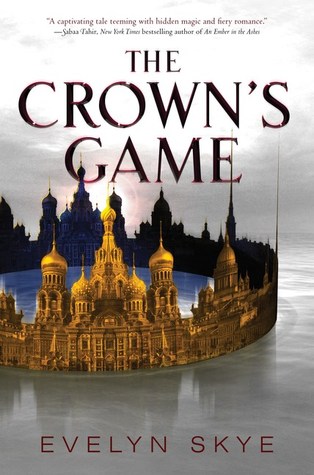 Title: The Crown's Game
Synopsis:
Vika Andreyeva can summon the snow and turn ash into gold. Nikolai Karimov can see through walls and conjure bridges out of thin air. They are enchanters—the only two in Russia—and with the Ottoman Empire and the Kazakhs threatening, the Tsar needs a powerful enchanter by his side.
And so he initiates the Crown's Game, an ancient duel of magical skill—the greatest test an enchanter will ever know. The victor becomes the Imperial Enchanter and the Tsar's most respected adviser. The defeated is sentenced to death.
Raised on tiny Ovchinin Island her whole life, Vika is eager for the chance to show off her talent in the grand capital of Saint Petersburg. But can she kill another enchanter—even when his magic calls to her like nothing else ever has?
For Nikolai, an orphan, the Crown's Game is the chance of a lifetime. But his deadly opponent is a force to be reckoned with—beautiful, whip smart, imaginative—and he can't stop thinking about her.
And when Pasha, Nikolai's best friend and heir to the throne, also starts to fall for the mysterious enchantress, Nikolai must defeat the girl they both love... or be killed himself.
As long-buried secrets emerge, threatening the future of the empire, it becomes dangerously clear... the Crown's Game is not one to lose.
Wow. What a stunningly, beautiful book. I was in awe of the pictures that Evelyn Skye created in my mind and everything that she had written. She is truly an amazing writer and I cannot wait for more work from her.
Other than my glowing praise of Evelyn's work, I truly did love this book. I usually hate historical fiction because I am not a big fan of history, but that wasn't the case with The Crown's Game. This was the first historical fiction book that I really enjoyed. I think that might've had to do with the fact that it was also fantasy, and I'm a sucker for a good fantasy books (if what I read and review on here is any indication).
The Crown's Game
was set in St. Petersburg Russia in the 19th century during the Tsar's reign. Now, keep in mind that I have almost no knowledge of Russia and of 19th century history, but you didn't need it to love and understand this book. Evelyn wasn't trying to give you a history lesson. Instead, she was showing you around St. Petersburg in such a magical way that you couldn't help to fall in love with it. Now, all the real St. Petersburg needs is two real enchanters competing for their lives to create what Evelyn did and it would be perfect!
Vika is such an intense character. She is stubborn as all hell, guarded, mischievous, and dedicated. Her whole life has been about becoming the Imperial Enchanter and she wants nothing more than to serve the Tsar and her country. She never shies away from anything. Instead, she runs head first into it and calculates her moves. I loved seeing inside her brain and seeing what made her tick. She was truly an interesting character.
I really don't know how I feel about Nikolai. He was a good character and added to the story and all, but I just couldn't make myself care for him. I really couldn't make myself care about anyone besides Vika and her baker friend (whose name I cannot spell and I do not have the book around me). Don't get me wrong, there was nothing wrong with Nikolai. He really did add to the story, I just found his character lacking and slightly annoying. Where Vika didn't really care about anything besides winning, Nikolai cared about everything. He just seemed too superficial for me to like. I really wished I liked him though. He would've been a good book boyfriend. He could make me gorgeous clothes and also teach me things that I didn't know. He was also really sweet. He did have that going for him.
This book is gorgeous. From the cover to the writing, everything took my breath away. I was lost in The Crown's Game for over a week and I wasn't sure if I wanted to end. Guys, you should really read this book. It is 100% worth it.
P.S: If you are worried about a love triangle, it doesn't really exist. It is very minimal and it doesn't take away from the story. I almost stopped reading when I reread the summary and saw that, but it wasn't that big of a deal.