October Once Upon a Dream OwlCrate Unboxing
This month I purchased the OwlCrate Once Upon a Dream box! I also purchased lots of other boxes, but that is besides the point.
I wasn't a huge fan of this box. It sounded great when I was reading the description, but the actual products fell short for me.
I had already received the book from my September FairyLoot box. I wish that there was some way for the subscription boxes to coordinate so that their subscribers could know beforehand if the boxes were the same. I know the themes were very different, but the book was still the same.
Here are the products in the box!
Fabric Button Bookmark by My Heart My Tribe. There was many different fabrics used and I got the red polka dot one! I did love the fabric, but I hate bookmarks like these because I feel like they damage the book.
A passport to Oz from The Unemployed Philosopher's Guild. It's a cute little pocket notebook. I am not sure if I will ever use it, but at least I have one.
A bangle charm inspired by Sleeping Beauty. It was an exclusive item from The Geeky Cauldron. It is really cute, featuring a spinning wheel, a glass bead with Once Upon a Dream in it, and a blue bead. I don't wear bracelets that often, so I am not sure when I would wear it.
The last item was a Peter Pan inspired beanie from Whosits & Whatsits. I love beanies, with a passion. So I was super excited to see this item in the box! My one complaint is that the beanie is huge and I have a very tiny head... But I will still wear it.
The book is Vassa in the Night by Sarah Porter.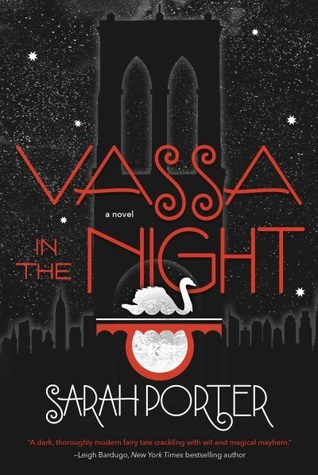 In the enchanted kingdom of Brooklyn, the fashionable people put on cute shoes, go to parties in warehouses, drink on rooftops at sunset, and tell themselves they've arrived. A whole lot of Brooklyn is like that now—but not Vassa's working-class neighborhood.
In Vassa's neighborhood, where she lives with her stepmother and bickering stepsisters, one might stumble onto magic, but stumbling out again could become an issue. Babs Yagg, the owner of the local convenience store, has a policy of beheading shoplifters—and sometimes innocent shoppers as well. So when Vassa's stepsister sends her out for light bulbs in the middle of night, she knows it could easily become a suicide mission.
But Vassa has a bit of luck hidden in her pocket, a gift from her dead mother. Erg is a tough-talking wooden doll with sticky fingers, a bottomless stomach, and a ferocious cunning. With Erg's help, Vassa just might be able to break the witch's curse and free her Brooklyn neighborhood. But Babs won't be playing fair…