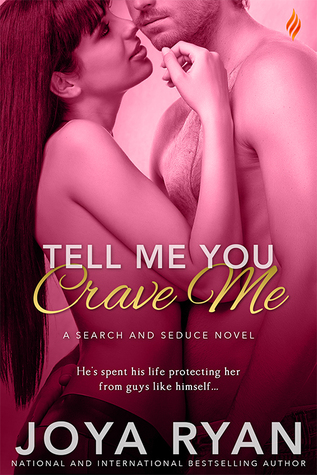 Title:
Tell me you Crave me
(Search and Seduce #3)
Author: Joya Ryan
Released: April 4, 2016
Synopsis:
Easton Ambrose has spent half his life protecting Natalie St. Clair from guys like himself. It's not like he wants to interfere with her dating life, but what's he supposed to do when she insists on going out with the wrong kind of guy? Kiss her, of course. But now she's pissed. And what starts as an apology turns to heated words...then just to heat.
Jumping East was the worst idea in the history of ideas. The guy is Natalie's older brother's best friend, the definition of off limits. But she's tired of the safe guys who couldn't light a fire with a flamethrower. Time for a little dangerous—even if dangerous always blows up in your face. Because even if they survive their bedroom antics, it's only a matter of time before they're caught…
My Review:
Ladies, bust out the fans and ice cold water, you're going to need it for this steamy book. Tell me you Crave me is full of passion and good reading. I absolutely love Entangled's romance line. They are some of my favorite books and they guarantee a good, romance filled, reading in a short amount of time. I don't think it has ever taken me more than a few hours to read an Entangled romance book, and Tell me you Crave me did not disappoint.
There is no long waiting time for the passion to start. Joya Ryan jumps right into the action within the first few chapters and I absolutely loved it. This book was full of steamy scenes, witty banter, and characters growing into new people. Ryan did not disappoint with this book. It is the third in a series called Search and Seduce, which is very accurate. Her stories follow Search and Rescue responders and their love interests. For some reason, I have been into books lately (at least the romance ones) that feature steamy men in uniform. The story kept my interest fully and I did not want to put this one down. I was that into it.
East, how do I describe Easton? For starters, sexy cowboy comes into mind. He uses words like darlin' to really add to that cowboy image. I don't know about y'all, but I've wanted to be called darlin'. East seemed a little lost throughout this book, but he would never show it to anyone. His two best friends had recently found their LOML, (love of my life) and he was the last bachelor standing. Of course, at the beginning he would never imagine ever settling down his player ways, until the moment. He seemed to be the one who was really fighting for a relationship and trying to settle down, even though he says he doesn't want one. Throughout the entire book he is sweet, caring, and a little bit of a douche, but he makes up for it. I need some Easton in my life, (don't tell my boyfriend)… ;)
Natalie is awkward. That is how she is described by friends and family alike. Yet, throughout the book I never saw a single awkward moment from her. As the story progressed, she came into a new found confidence and I loved reading about how she grew into herself and became her own person. She is such a strong character. She moved out on her own and started her own company without the help of her family. It took guts and she continued to show those guts throughout the story. Of course, she wasn't perfect all the time, but she was trying and I commend her for everything she went through and how she came out on top because she stood up for herself. She didn't hide from a fight and always tried her best. Nothing less than perfection. I relate to her so much and I adore her character.
You should really read this book. It is the third in the series, but you can read them as a standalone and understand it perfectly. Tell me you Crave me is full of sexy scenes, hilarious banter, and some pretty sweet moments. The rest of the series is now on my TBR list and it should be on yours too!