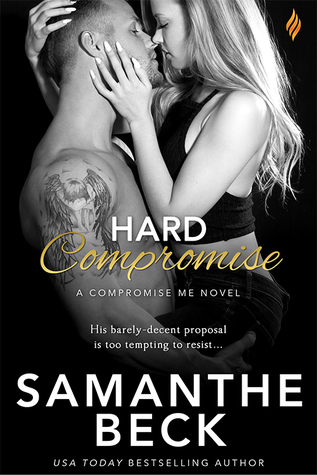 Author: Samanthe Beck
Release Date: November 21, 2016
Source: eGalley from Entangled Publishing via NetGalley
Synopsis:
Laurie Peterson assumes her impulsive one-night stand with sinfully sexy Sheriff Ethan Booker is the biggest surprise of the year…until her bakery burns down while she's basking in the afterglow. It looks like her dreams are up in smoke, but then Ethan proposes a deal too tempting to resist.
Ethan has no intention of settling for a one-night stand with Laurie. Nor does he want anything to do with the women his wealthy family wants him to meet. Not when he's waited ten years for his chance to make his move. His deal might have strings—and Laurie may not know the stakes—but nothing will stop this sexy cop from staking a real claim on her body and her heart.
My Review:
Hard Compromise was full of steamy scenes, romance that took your breath away, and one-liners that left you laughing for a while afterwards.
I loved this book. It was a perfect short little read that I needed to get away from the all of the fantasy books I had been reading.
There isn't much I can say about this book. I really enjoyed it and it was a perfect little escape from the world. It took my just under three hours to read and I enjoyed every second of those three hours I was reading. I even ignored my homework just so I could read more!
Samanthe Beck did an amazing job writing this book and I am so happy I got the chance to read and review this book.
The one thing I want y'all to notice if you guys will catch is the joke of Ethan Booker's last name. I want to know if y'all catch it! It took me until the very last page of the book and once I got it, I started laughing hysterically.